Welcome to my Christmas tour, hosted by
Boomama
.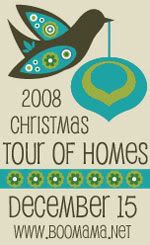 Come in!
The entryway- sparkly letters thanks to JoAnn's, made even better with some old glass bead garland!
The table in the entry. This poor reindeer's antlers only stay put for about 2.5 seconds at a time thanks to a run in with our 75 lb weimaraner last year. That's okay, though- 2.5 seconds is long enough for a picture!
The dining room:
A closer look at the dining room table decor- these little vintage characters are so much fun to collect. Look at those ones on the right- they are full of mischief.
Part of my vintage Santa collection:
The garland on the mantle (made from the branch remains of an aluminum tree). I asked my husband if this was a little too crazy, and he said yes. Mabye I shouldn't have asked.
A closer look...
My vintage chalkware nativity set. If you look closely, you will notice that we have twin wisemen. When it comes to vintage decor, sometimes these things happen. :)
Our pink "Charlie Brown" tree! :) Oh, and some more of those crazy little characters.